About Us
There is nothing like dining on a delicious meal at the Cathay Court Chinese Restaurant. We are located at 331 Henley Beach Road, just a short drive from Hairspray on Henley. Our chefs prepare a range of authentic meals, and this includes the Sweet and Sour Pork, Singapore Rice Noodles and Mixed Vegetables. Cathay Court Chinese Restaurant also serves beef, chicken, duck and seafood meals. You can also order entrees, soup, desserts and beverages. You are welcome to order your favorite meal for dine-in, takeaway or delivery in Brooklyn Park.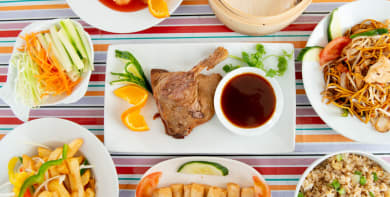 Reviews
Gemma
"Love the food, it was hot and fresh and got some prawn crackers thrown in. They're the best!"
27/05/2022
Glen
"Everything perfect. Thankyou Cathay Court"
6/05/2022
Andy
"Good food, great value."
1/05/2022
Grant
"Wendy is always so warm and welcoming! we have been customers for 20+ years and the food has never failed to impress us!"
13/04/2022
Menu
Contact Us
Find Us
331 Henley Beach Road, Brooklyn Park, 5032
Opening Hours
Monday
5:20 PM - 10:00 PM
Wednesday
5:20 PM - 10:00 PM
Thursday
5:20 PM - 10:00 PM
Friday
5:00 PM - 12:30 AM
Saturday
5:00 PM - 12:30 AM
Sunday
5:20 PM - 10:00 PM
Please note, delivery times may vary.
We deliver to
5000 Adelaide, 5006 North Adelaide, 5007 Bowden, 5007 Brompton, 5007 Hindmarsh, 5007 Welland, 5007 West Hindmarsh, 5008 Croydon, 5008 Croydon Park, 5008 Renown Park, 5008 Ridleyton, 5008 West Croydon, 5009 Allenby Gardens, 5009 Beverley, 5009 Kilkenny, 5011 St Clair, 5011 Woodville, 5011 Woodville Park, 5011 Woodville South, 5011 Woodville West, 5014 Albert Park, 5014 Cheltenham, 5014 Hendon, 5014 Royal Park, 5021 West Lakes, 5022 Grange, 5022 Henley Beach, 5022 Henley Beach South, 5022 Tennyson, 5023 Findon, 5023 Seaton, 5024 Fulham, 5024 Fulham Gardens, 5024 West Beach, 5025 Flinders Park, 5025 Kidman Park, 5031 Mile End, 5031 Mile End South, 5031 Thebarton, 5031 Torrensville, 5032 Brooklyn Park, 5032 Lockleys, 5032 Underdale, 5033 Cowandilla, 5033 Hilton, 5033 Marleston, 5033 Richmond, 5033 West Richmond, 5034 Wayville, 5035 Ashford, 5035 Black Forest, 5035 Everard Park, 5035 Forestville, 5035 Keswick, 5035 Keswick Terminal, 5037 Glandore, 5037 Kurralta Park, 5037 Netley, 5037 North Plympton, 5038 Camden Park, 5038 Plympton, 5038 Plympton Park, 5038 South Plympton, 5040 Novar Gardens, 5045 Glenelg, 5045 Glenelg East, 5045 Glenelg North, 5082 Ovingham, 5950 Adelaide Airport